I want my work to be a "perfect fit"--for your body, for your style, and for your emotions. With that said, there are certain types of work that I generally make as special orders, so that the outcome is as relevant to you as possible.
Please note that the price listed is a base price only and can increase according to variables such as size, complexity, materials, and delivery date. Please contact me for an estimate and additional information about commissioning a custom piece.
special orders
Custom Wood Cleavage pendant + chain
Custom Wood Mouth brooch
Powered by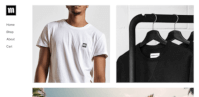 Create your own unique website with customizable templates.