Long Cherry Veneer Nugget earrings
Like prehistoric disco balls, these faceted wood drops add drama and glamor to any occasion.
They might look heavy, but it's all an illusion: they're actually featherlight constructions of balsa wood and paper-thin wood veneer.
These nuggets swing and spin on thin sterling silver chains, showing off the "crazy quilt" effect of all those different wood grain patterns. They're sealed with oil and wax and suspended from handmade sterling silver earwires.
size
:
3 x 1 ¼ x 1 ¼"
(including chain and earwire)
weight
: 3g
materials
: balsa wood, cherry wood veneer, sterling silver, epoxy, oil, wax
care
: handle with care, protect from moisture and heat
Powered by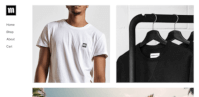 Create your own unique website with customizable templates.