Pops brooch
SKU:
Centuries ago in Georgian England, there was a fad for "lovers' eyes," miniature portraits of a partner's eye worn on brooches, pendants, or rings. As you might imagine, these anonymized close-ups were particularly popular with anyone (including the then Prince of Wales) whose romance had to be kept quiet.
Sneakiness aside, I love the idea of one feature standing in for a whole person, of a glance representing a relationship. Each of my eye brooches encapsulates some quality or characteristic that I hope to see more of.
Each eye brooch is carved from solid wood, painted and sealed, and fitted with a brooch back. A small magnet embedded in the back of each piece allows you to easily display it on the wall using on a nail.
size
:
2 x 2 ½ x ½ "
materials
: maple, ink, gouache, wax, lacquer, epoxy, magnet, nickel
care
: protect from moisture, oil, and abrasion;
magnets are potentially dangerous to pets or children
; if the magnet becomes loose please return the piece to me for repair
Powered by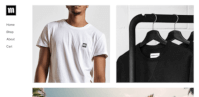 Create your own unique website with customizable templates.