Paperclip chain
SKU:
If you've ever been an office worker, chances are that you too have crafted a paperclip chain. The only difference here is, I also made the paperclips themselves, using thin rods of crystal-clear glass.
This sparkly but work-appropriate mid-length necklace is made of 13 interlinked glass paperclips and closes with a clip-shaped sterling silver clasp.
length
: 24" (clasp 1 ½")
materials
: borosilicate glass, sterling silver
care
: handle gently, occasionally wipe with a soft cloth, polish clasp as needed
Powered by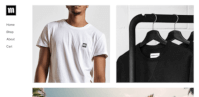 Create your own unique website with customizable templates.