Slim Glass chain
SKU:
I'm drawn to the familiar shape of industrial chain, the kind you see rusting away in shipyards and junkyards, securing bikes to signposts, or keeping fence gates together. For me those oblong links have a jumbled aura of danger and security, adventure and everyday, elegance and industry. No wonder this is the shape I have in mind when I sit down to make glass chains!
The result is versatile accessory with a little bit of edge. Wear it full-length to enjoy the musical sound of the links clinking together, or double it up to wear as a choker clasped with a stainless steel carabiner (included). Just don't use it to lock up your bike!
length
: 28" (each link is about 1")
materials
: borosilicate glass, (stainless steel)
care
: handle gently, occasionally wipe with a soft cloth
Powered by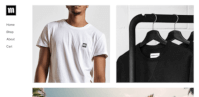 Create your own unique website with customizable templates.