_

After moving to Seattle in 2003, Taiwanese native Henry Ku started a restarant in in Kent, and then one in Wallingford, but neither stuck.

Then he moved to Chinatown and opened Henry's Taiwan:

"That time the restaurant so tiny, so small, only 20 seats, and only one chef: it's myself. One person. Only one person running. Then I needed to dishwash everythings and then come to take order."

The restaurant's specialites reflect Taiwan's complex cultural and political history:

"The idea is, I try to do is like teriyaki. So you go many places: teriyaki chicken, teriyaki. A lot in Washington state, the teriyaki's very public. So you call it teriyaki house, everybody know. But however, Taiwanese, the cuisines, they have a similar, like teriyakis, because you know Taiwan belong Japan, leasing to Japan, 50 years. So there's a little bit bit, things, you know, culture, you know, everythings learned from Japan a little bit. So they have a some culture's learned from Japan a little bit. So they have some kind similar stuff...But the south is the Chinese style. But the put togethers, sometime, idea is similar...

"So I used those to try to create a new cuisine in Seattle...Then you know after I try I don't know if this works or not, so I just try. And it works. Because everybody take it. So the business, so far so good."

Good enough for Henry to open a second restaurant in Bellevue, and then a third, just a few doors down from the original Henry's in Chinatown. Henry's Plus gives Henry a place to explore his influences and interests. Although he's known for Taiwanese food, Henry's only formal training is in French cuisine:

"Then myself is major started cooking from French, French cuisine. So then I never use French cuisine in Taiwanese food. So then I have little bit idea that I put in the third ones, Henry's Plus. then I just try to test the market."

"The Taiwanese cusine, that's, you know, my hometown food. So I only use my memory. The French cuisine that my teacher teach me, one things that's very important is: from heart. When you're cooking, ok, you don't need a recipe, you don't need anythings, but you need from heart. What you thinking, what you inside have. So then when you cooking, is create just like art. The art is no any standard things; everything is open mind...

"So I can do, if you give me a refrigerator, I can cook. I don't need you have any recipe or something, anything. Also, I can do one thing, is special order. Like if somebody who cannot have sugars, who cannot have soy sauce, cannot have peanut butter. like so many things some people cannot eat...

"That kind of idea is from my father, before he passed he have cancer. the doctor say oh you cannot have that, you cannot have that, just so many. But my father, he loved to eat. So I say, okay, no problem: we just take the limit, what we can have. Then I just used that to cooking the best...

"When you're sick, you definitely need more love. What is the best cuisine? THe best cuisine you cannot put nothing but you cannot put your love. If you have love in your meal, people can feel what you give to them. A lot of people, you know they cooking, that's job. That's terrible. You know, it's not job. The chef, or cook, it's not job.

"I told everyone, worker: that's not job. Your art. Ok? YOu come here to prepare it's not food, It's art. It's to show off. To show people what you have. What you can do. What you done."

According to Henry's culinary philosophy, deserts are key:

"Dessert is most important things in the meal, with the meal...The desserts is mostly sweet things for everybody that dream. When people, after dinner, they need something make you happier, is dessert. And you need make something, not just eye open...Smell: eyes: taste, everything come together. Ok? Then it's the beautiful art."

One dessert that's always on the menu is a sweet red bean and herb jelly soup that combines Chinese, Japanese and Taiwanese elements:

"They have a black jello; this is from herb. With red bean paste together, to mix. And with sweet rice ball. This public dessert in Taiwan. I believe it is...some stuff is Japanese."

While herbal desserts are common in China, the main ingredient in this "black jello" is specifically Taiwanese:

"That's only from Taiwan. The only one from Taiwan. Nobody have. "Shinsho"; some kind of grass. Then the juice they make black ink: totally black. They have a light smell. The herb is the summertimes, when you have that, they can cut down the temperatures from your bodies so you don't feel so hot; it can cool down your insides.

Henry can also cool you down with a custom-made smoothie:

"And the cold things, I make smoothies. That's my...20 years ago I started to make, you know, all kind fruit, to make smoothie. Fresh fruit. And a lot of people didn't know the fruit to make smoothie can be taste so good. Generally you've got the smoothies, the outside, or

They all from powder. Ok: that's not health. So I provide is fresh fruit and make it...

"The smoothie is my favorite, actually. Because I like fruit. It's natural, and healthy. You have nothing wrong. Simple...There's nothing wrong with the fruit. Fruit, everybody have. You can have. That's easy way to eat. But you just take an apple, just 'crunch, crunch': it's not. And you walk down the street, just chewing an apple, it doesn't look right."
ginger custard $3.50


bean bun $1.50


Subsand Vietnamese/Chinese desserts


_

address

website

phone

hours

_

credit cards

barriers to access

clear menu/labels

_

Tom Dang is the manager and part-owner of SubSand, a lunch spot that's been open for about 3 years:

"I'd been working at a lot of different locations, different types of restaurants, different types of cooking. I been working for Chinese restaurants, and Vietnamese restaurants, and even American restaurants, for the last, like maybe, I would say, twenty years...

"When we are first open up this the idea is from, you know, like, well, me and the other guy that eat sandwiches a lot and I been trying some of the local sandwiches and then I thought maybe if i can open up a shop that sells sandwiches around here then probably I could get a better job...

"And also it wasn't a sandwiches shop over here when we first opened up. So that is pretty much the idea that it came from. So we just want to be like one of a kind here in the I.D.

"And then I love them so i just keep creating, what to put on sandwiches, to make it better, you know...We have like special goes on every day, the special sandwiches that daily, most of them are not on the regular menu. So that is the "special special" you know, so...yeah.

Like Tom himself, SubSand's offerings are a mix of different cultures:

"It is more like Vietamese-Chinese style cooking. Because I'm Vietnamese but I'm Chinese; I'm Vietnamese-Chinese. It is the stuff that when I was like, that I ate, and....I want to bring them back these days, because this kind of style of cooking is not so many people do around here in Seattle."

SubSand's extensive dessert menu reflects his wife's background--and her strong sweet tooth:

"Most of the desserts that we have here is Hong Kong style. The reason why is like my in-laws, they're all from Hong Kong, yeah, and my wife is from there too. What it was is we went to Hong Kong to like visit them, you know, kind of like on and off for the last 15 years. And we went and we always try like street food and snacks and stuff, you know, and my wife she just was like in love with them. And then every time we went to Hong Kong we took like short-term, like a little tiny course that they teach you how to make you know sweets, and, you know, like desserts, and that. And a lot of them, some of them we learn from books as well, too.

"We got like tofu custard, we got egg custard, we got red bean custard. today we got the red bean sweet soup...ginger milk custard...

"And also we got one dessert called like Chinese herbal custard. It taste a little tiny bitter but has herb in there and that is one of the pretty famous dessert from Hong Kong...it help for you if you have like a sore throat, you know, like for winter time. You know and also if you have like bad heat in your body system it kind of help to flush it out a little bit. So that's why it tast a bitter. You know how herbal is? Herbal is always tastes a little bitter.

"We've got a pretty large range of desserts, but we don't have them every day--we rotating them these days. We used to have them all but because my cooler is getting smaller and smaller every day, you know. So now we're rotating. We keep maybe 2 to 3 different desserts for a certain amount of days, like for 3-4 days, and then we turn around and we make something else out of it."

At a griddle station near the window, Tom creates SubSand's most popular treat, the "egg puff":

"We've got the egg puff, which is like everyday , and it is the most selling dessert. People will love to order and then eat on the way out..."

The egg puff looks kind of like a designer waffle, with rows of round domes instead of square dents:

"The egg puff's been around for I would say, like maybe, in Asia, they've been around like for a long, long time. for maybe 30 years. Back then people make them with charcoal.

"When I was a teenager, so we went to Hong Kong and they sell them all over, like every corner of the block, you're standing right there and they're making them. Also we tried and we were in love with them too.

"And we started to think of a way, say hey, we should bring this back to Seattle and sell them, because like everytime we want an egg puff we have to drive all the way to Vancouver to get them (because they're more popular over there back then).

"And then we were trying to bring them back to Seattle and then one time we went to Hong Kong and then I told my wife, you know: Hey, if you like egg puff, why don't you take a little tiny course and you'll have people show you how to make them? And then we went to a course for like four days over there and then we started buying like machine and make them.

"But at first it was like pretty sloppy and we didn't make it turn out crispy and it wasn't that good. Her dad does this person, his friend, who owns probably like five stands that sell nothing but egg puff over there in Hong Kong. So then we finally call him up and and say, 'Hey Dad, we need some help from the guy!' And then he wrote down like a new recipe, how he does his egg puff, and then we started bringing back to Seattle. And we'd try and try and try for, you know, like a year, and finally we nailed it down. And that's the history of it.

"Now we make them with like green tea flavors, we got them in chocolate flavors, also shredded coconut, and little tiny peanuts in there, and we put like strawberry flavors in there now.

"My wife she was like really in love with them, she eats them and then she tries to work with them, you know, and we found out a way which is like we can make them really cripsy from the outside and kind of spongy from inside so you have like different texture when you bite them, that's how it is. That's what the egg puff is now."
_

_

_

_

_

It's almost impossible to get lost looking for the Tsue Chong fortune cookie factory. Even from blocks away the perfume of vanilla or almond extract will lead you by the nose.

Unless, that is, you work there.

Tim Louie is the president of Tsue Chong Company:

"I'm immune to that. All my visitors and friends say, Ah! It smells so good in here! I say, I don't smell anything! What are you guys talking about? You know, but, I think I'm just numb to that."

Tsue Chong began as a noodle factory, and still makes a wide variety of noodles and wrappers:

"Our company started with my great-grandfather, Gar Hip Louie, back in 1917. And as an early Chinese immigrant he was here and just doing labor work--came over on a ship--and realized there was no local noodle factory and as you know one of the primary dietary items is rice and noodles. So he saw a business opportunity back in 1917 and that is how the business started.

Six years after my great-grandfather started the business, his son--my grandfather--Fat Yuen Louie, took over and operated the noodle factory.

"'Tsue Chong' means, in Chinese, 'gather prosperity' and we manufacture under the Rose Brand, our logo. It was just very creative how my grandfather created that. In his free time he liked to grow roses. At first as a young child I thought 'Rose' was my grandma's name, that he would do the brand name after my grandmother, but no, it was because he liked to grow red roses in the garden. And that's how we adopted Rose Brand.

"How we got started on the fortune cookies is: fortune cookie is actually, according to my information that I've researched, is more of an American invented product, originating in the Bay Area, San Francisco, around the mid-1950s. So when my grandmother heard of that concept, relatively new, since we were already distributing noodles to the restaurants she decided that it would be a good idea to manufacture fortune cookies and sell it along with our noodles. And that is how we got started in our fortune cookie production."

To move into cookies Tsue Chong had to invest in new supplies and technology:

"There was no overlap at all; fortune cookies are much different than noodles. Totally different sets of ingredients. Even the flour we have to use, we have to use a baking pastry flour. And I mentioned San Francisco; so our first pieces of fortune cookie baking equipment was from San Francisco.

"We no longer hand-fold the individual cookies, which was done in the past. We have second-generation and third-generation machines; everything's automatic now. It's all mechanically folded and thanks to modern-day technology we're able to produce over 80,000 fortune cookies a day, using automation."

Tsue Chong has always been in Chinatown, and the curent building is the company's third, built in 1992. The fortune cookies are made on the top floor. Tours are available, but only to school groups and youth organizations, and only by appointment.

"Some of the unique things about us as a fortune cookie factory, we have the famous 'unfortunate' cookies, and what those are are the scraps, or the duds, or the rejects that don't get perfectly folded in that butterfly-shaped-looking cookie, we accumulate and we sell it at a much discount. You know, they taste the same, they're from the same recipe, but it's just not the perfect cookie and those have become very very popular to where we just make them on purpose. We have one machine that is just dedicated to making the flat fortune cookie and then we just sell it along with the other crinkled up ones. And people come in daily and buy bags of them.

"A lot of my children visitors, these school kids, they always, after I introduce them to the flat unfortunate cookie, they really like that better. And I ask them, 'Why do you guys like that better?'

"'Because you can put more of in your mouth at one time.'"

Tsue Chong's innovations don't stop with the "unfortunate" cookie:

"We make these fortune cookies in different flavors; some of the popular ones are strawberry, pina colada, mocha--it being Seattle, coffee capital of the world, you gotta have a coffee flavored on, so we have mocha--lemon, cinnamon. Many times we tried different flavors.

"We also do a custom message; if our customers want to put their own notes in, with the message, we can do that. Very popular for weddings, birthdays, but a lot of the companies are using that as a marketing tool; it's relatively inexpensive, and put a message in there and get your message or advertising across.

"In addition to custom messages I have people that approach me and ask if I could put engagment rings in; of course, when I do that--you're talking about a several-thousand-dollar piece of jewelry, and they're right next to me when we kind of fold and bend that into the cookie...definitely do it by hand, yes."

And where do the fortunes come from?

"I will introduce you to the Chinese wise man that writes them up--I'm just kidding!...No, we have a printing company in the Bay area, that, it's more of a commercial business for him. He, as a business, printing and writing fortunes, writing and printing fortunes for a lot of the factories throughout the United States. And it's a very good business for him.

"

So I sub that part of it out. I do do editing if I ever have feedback--negative feedback--but usually I don't. But if customers are kind of unhappy about a certain fortune, we just let him know, say, just don't publish that one anymore. We like to have positive, happy fortunes.

"Now, I gotta be honest with you: I don't read my fortune. It's just a thing I don't do. I don't read my fortunes. I think I don't care; I've seen so many of them that I just kind of throw them aside until somebody says, 'Hey, you gotta look at this!'"
_

It can be a little confusing: the map says 780 King Street but the gold leaf on Yick Fung's window says 705. Out on the street it's 2012; peer inside and the shadowy and crowded store looks much like it did when it opened in 1910...or when it closed for business in 2008.

Today the only way to get inside Yick Fung is to join a group tour offered by the Wing Luke Museum.

Yick Fung's final proprietor was Jimmy Mar; tour guide Howard King describes Mar's history as a community leader:

"He was a lieutenant Colonel in world War II, so it was very unusual for a Chinese guy to be that high up office...He's been the funeral director for Chinese community for the past 60 years. He's still doing it--but at a lot slower pace."

Mar worked at Yick Fung for 70 years before retiring, in 2008, at age 92. After he closed donated the store and its contents to the Wing Luke Museum, Yick Fung was rebuilt down to the last detail inside the new museum building:

"So this is what they store looked like. In fact, see, the windowpanes say 705. They even moved the widow pane because physically this store was in the other building, near 7th Avenue. This is 8th Avenue right here. So they even moved the windowpane up here to make it look like the original store."

Howard King is uniquely qualified to lead tours of the store: when King was growing up in the 1940s his father owned the import-export store next door to Yick Fung:

"My father was at 707, so that's why I say we were neighbors. See but my father would carry similar things, too. So we were competitors.

Neighborhood kids would stop in this shop or another like it for after school treats. Even small change would buy "brown candy"--a block of compressed sugar--or a taste from one of the dozens of glass jars filled with a various dried and seasoned fruits:

"Cause when we had to buy snacks, like a candy bar, we don't buy candy bars. We'd come in a store like this, and get snacks like this. So see there's quite a variety...All these are sweet and salty, and some are sour. Like the ginger, you know, is kind of, I don't know, a gingery taste. It tastes like ginger. See, there's the mangoes, that's a sweet thing, sweet candy. Cherries are kind of sweet candy. Things like that."

Today tour groups snap photos of the now-sealed glass jars:

"I was going to ask you, are these things in here for, like, forever?

"

"Yeah."

"

So how old is the stuff that sits in these jars?

"

"Oh, I don't know how old. But you gotta realize in China there's not a lot of refrigeration. So they learned to preserve a lot of food items. So what you see in these bottles are the preserved fruits, they're dried so they're still good. In fact in 2008 when we giving tours here Jimmy Mar would give us snacks out of here. So they're still edible; it's just that they may not look as appetizing to somebody, that's all."

"

I'm sorry: you're saying that if it's dried it's good forever?

"

"I don't know how long forever is, that's all, but like I say, in 2008 we would eat out of here, yeah. It's dried, so I think it's good for another 20 years."

"

O-kay...

"

A remarkable number of jars hold dried plums: some spicy, some sour, some sweet:

"It's a dried fruit and it's got a seed in there, most times it's got a seed. And then you just kind of put it in your mouth and you bite off, chew off the meat part, and leave the seed. And spit out the seed. SO that's the technique, is to bite just hard enough to take off the good part and leave the seed in your mouth, and then spit it out."

For those who might not have got the hang of that, there's a jar labeled "Tourist Plums": they're safely seedless.
_

Yummy House Bakery is a family business now in its second generation. The main location opened ; a smaller branch inside Uwajimaya opened three years later.

Today, owner Karen Poon runs the business with her brother:

"I'm the owner, but I always say I'm the manager. It's my parents' originally, and now they're retired and now me and my brother, we took this over..."

The family moved to Seattle from Hong Kong about 15 years ago:

"Before, when we were still in Hong Kong, we never even touch bakery; we don't know anything about it. And then, when my dad came over, and the first few years he worked at a bakery. Then he learned something about how to bake, so then we invented our own style of cakes."

Yummy House's baked goods are Hong Kong with a twist:

"It's still Hong Kong style, but there are so many different ways to make the cakes. And the buns, even though it's all Hong Kong style, but there are different ingredients, different steps that you do...It's pretty much a secret, but then we use a lot of egg whites, compared to other Hong Kong style bakeries."

Those egg whites have a leading role in Yummy House's top-selling item:

"...Sponge cake. It's kind of like our signature item...It's a very traditional style. We fold the paper, parchment paper, in a little cup, like a little metal cup...We have three different flavors. It's very fluffy, soft. Not dry. We sell average on this, on weekday, we sell 300 to 400 a day. By the late afternoon, then it's out...We have customers, they would order sponge cakes like a month ahead, just to make sure."

The same light but firm sponge cake is also the base for Yummy House's "Hong Kong Style" layer cakes:

"The flavor of our cakes is more fluffy and light, less sweet, I would say. And we tend to use more of the fresh fruits instead of all these sugar and frostings...like right now we do mango, strawberries and blueberries. If it's the next season we might change it to honeydew, taro. So it depends on the season...Mango is always the best. Always the most popular. Seems like it doesn't matter where you're from: mango is always the most popular. Strawberry, it's the second."

Yummy House also has special cakes for New Year and fresh mooncakes for the Moon Festival:

"Most of the mooncakes you get outside in the supermarket, those are like six months old, 'cause they made from Hong Kong or Vancouver, or San Francisco, and then they ship it over. The shipping time, its like a few months before they get to the market and sell it. So ours are fresh. There's a lot of different flavors. There's like lotus seed, white lotus seed, red bean, red date, black dates, green bean, then there's yolk in it--it's the duck yolk."

Chinese wedding cakes, or "wife cakes" are filled with lotus seed or bean paste and are surprisingly small:

"Because they give it out as a gift. So it's not where you put it in your wedding banquet or your wedding ceremony; it's not that. Yeah, 'cause the American style one they have the whole wedding cake set out and they cut them and then right they serve it to their guests. but these are different, you do it before everything starts. So the husband's side, the groom's side, will buy all these cakes to give to the bride's side."

In addition to ornate and festive cakes, Yummy House has an everyday range of breads and buns for informal snacking. A couple of these old-fashioned buns that aren't exactly what they might seem. One is the so-called "pineapple bun":

"It doesn't have pineapple filling in it, but it's the crust that looks like a pineapple, so in Hong Kong people call them pineapple buns. These are like the very traditional Hong Kong style buns."

Another one is the mysterious "Mexican bun", a old Hong Kong favorite:

"Mexican bun...it's the name of it...I would say it's a little creamy, it has a little cream. Sweet...It has no filling it, so it's just the top, the sweet top... I don't know why it's called Mexican bun, but in Hong Kong, it's always called Mexican bun...I had a Mexican worker; I asked her, So do you guys have this in Mexico, and she said, Yes, the flavor is very similar. So I'm thinking maybe it's from Mexican people that brought it to Hong Kong many years ago. So I'm not sure but I'm thinking.

"They've been around for so long, but people don't really make them anymore, I think, in Hong Kong. And now, some of the customers that we have, they are about, maybe, 50s, and then they came and they were like, Wow, you guys have Mexican bun! So they remember and maybe when they were a child and they said, Wow, I used to have this, and you guys have it!

"So maybe you could do some research and let me know about it?"
Powered by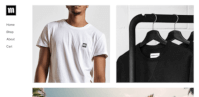 Create your own unique website with customizable templates.